WAYS - With All Your Senses
Some call it Gospel, others call it Soul, Rhythm&Blues or Popmusic.
We want to move along several ways in music.
We want to sing "Songs with a Meaning"!
With all your senses..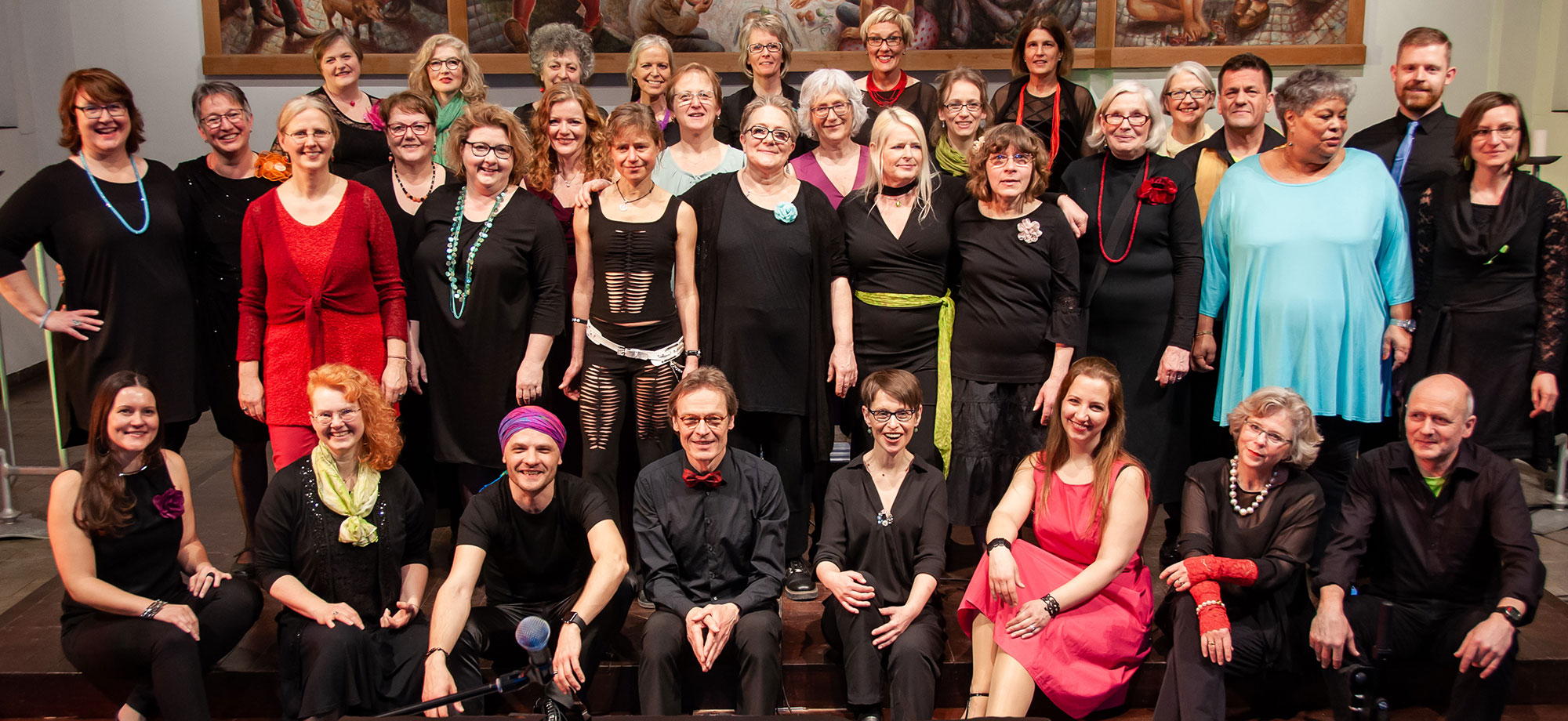 News
May 2021
Yay! The incidences are falling, more and more people of WAYS are vaccinated, too, and the regulations for choir singing in Berlin are loosening. Will the Zoom times end soon? Even when "tea time digital" is fun and much better than not seeing each other at all …
However, we long to sing "for real" again and put together the new songs we learned during the Zoom voice group rehearsals.
Some of us took up their Sunday rehearsals in the park, as before (well distanced!).
We hope we can sing for you again soon!
If you would like to join us: simply call us on +49 178 2440085 or use the contact form.
Your WAYSies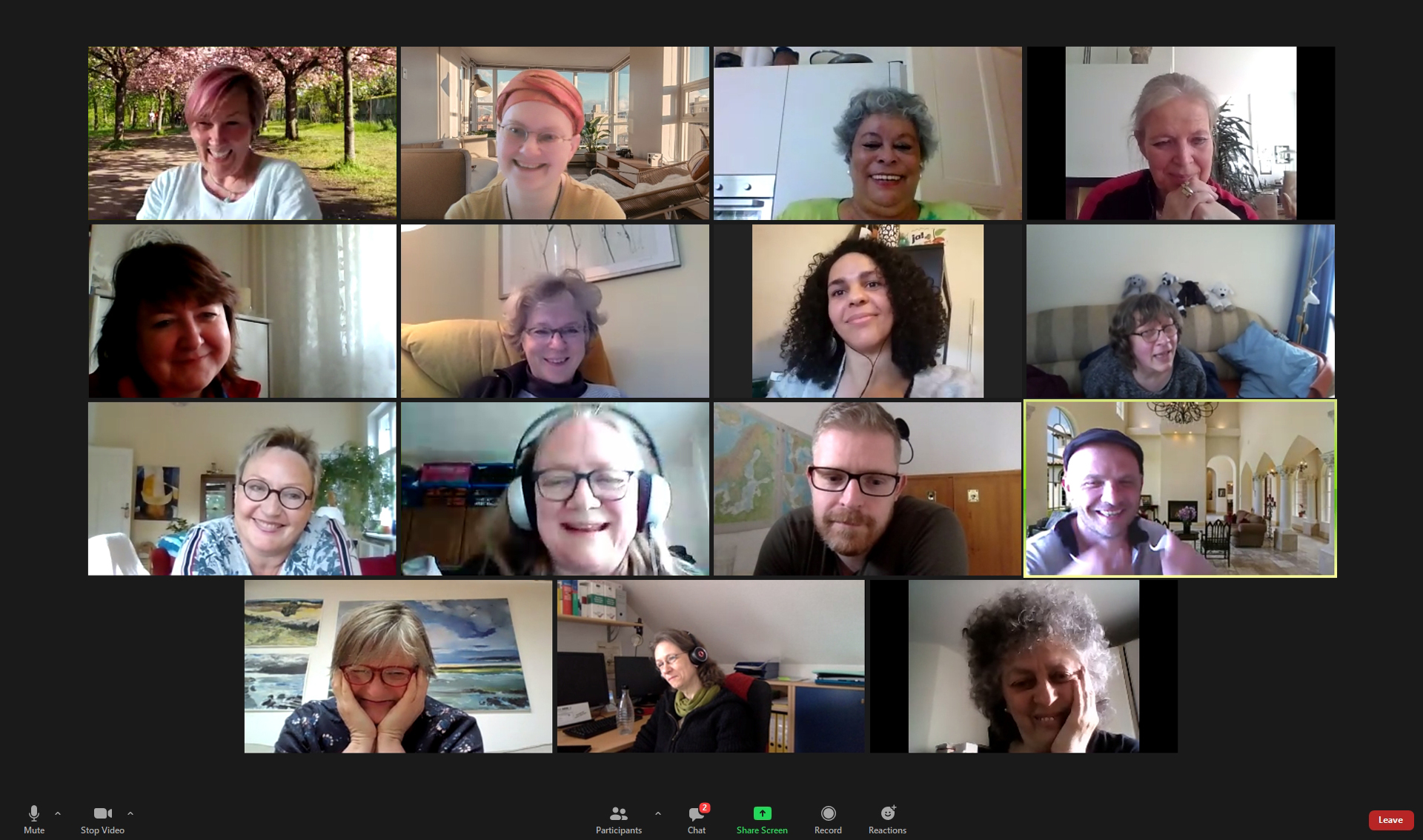 December 2020
Yes, of course WAYS continues to sing all through the winter lockdown. And we don't even wear masks – Zoom has made it possible for us to meet with Gunars each Monday and practice new songs diligently in three different voice groups. True, everyone is singing by themselves at home and we can't hear each other, but we can see and hear Gunars at his piano, ask any questions we might have, and gaze into the dearly missed faces of fellow WAYSies.
Though, we are all very eager to hear how the new songs will sound when the patchwork someday comes together in "real-life" rehearsals. Surely, there will still be a lot to work on, you all know how we love all the details. We can't wait to introduce you to our new repertoire delivered in rich WAYS sound, somewhere "on the other side". We so miss our concerts and you!
Anticipation begins now!
If you would like to join us: simply call us on +49 178 2440085 or use the contact form.
Your WAYSies
October 2020
Even in Corona times WAYS keeps going: from time to time we rehearse with our choir director in different locations outside (full 3 hours) or inside (2 times 30 minutes with a ventilation break). And on Sundays we sing in a small group in the park. When it rains we meet under the trees or in the parking deck. Most importantly, we all have fun and the sound is great!
If you feel like joining us: simply call us at +49 178 2440085 or use the contact form.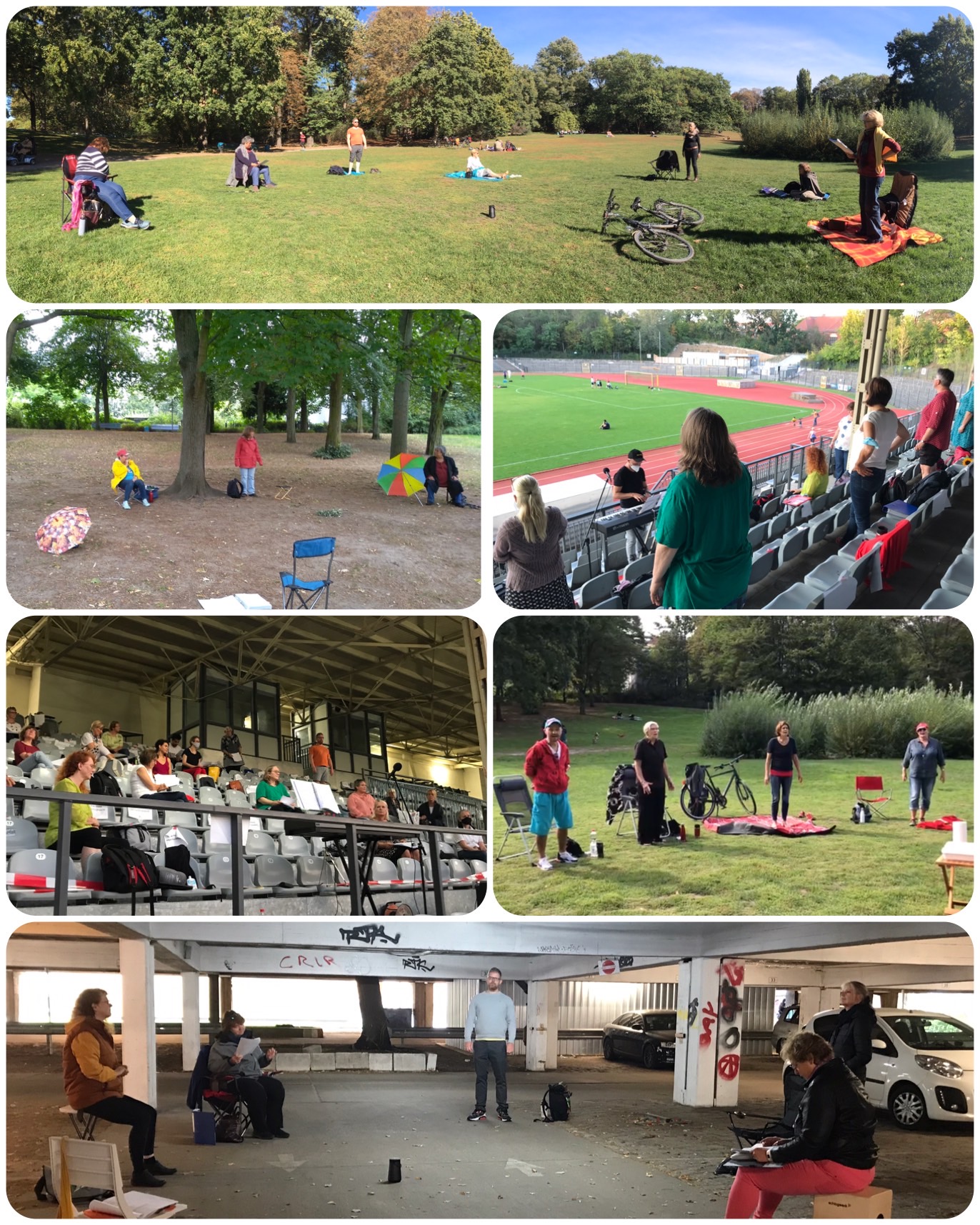 May 2020
Dear friends,
because of the COVID-19 crisis, WAYS is also pausing until further notice with the rehearsals in the library of "our" retirement home on Kurfürstendamm. The health of our hosts of course is more important!
We will let you know when and where we will meet again, as soon as we know ourselves.
In the meantime, we continue rehearsing using video meetings so that we can be there for you again soon - with new songs.
Until then: you all stay healthy, keep some distance, watch each other and don't forget to sing.
With All Your Senses!
Your WAYSies!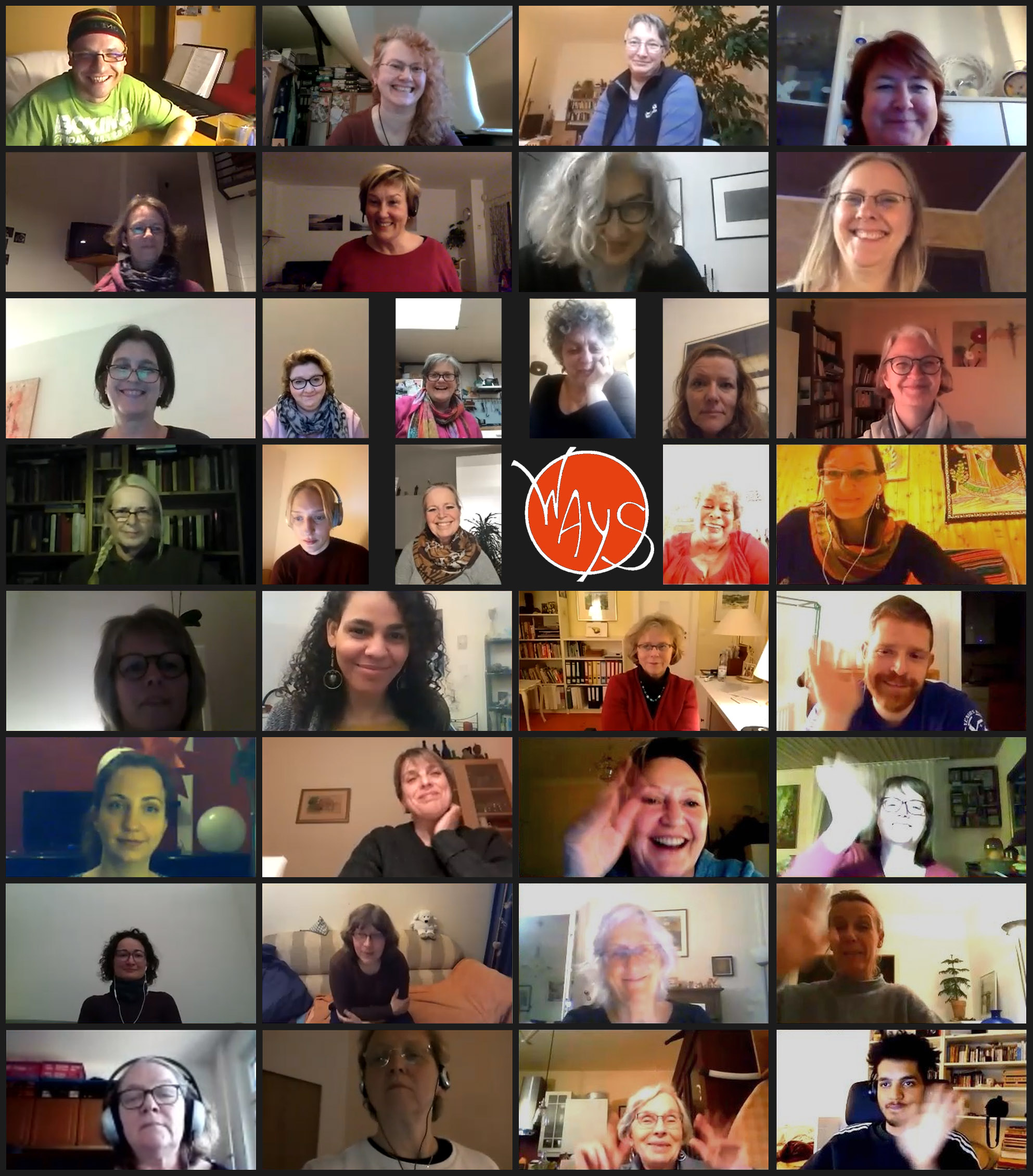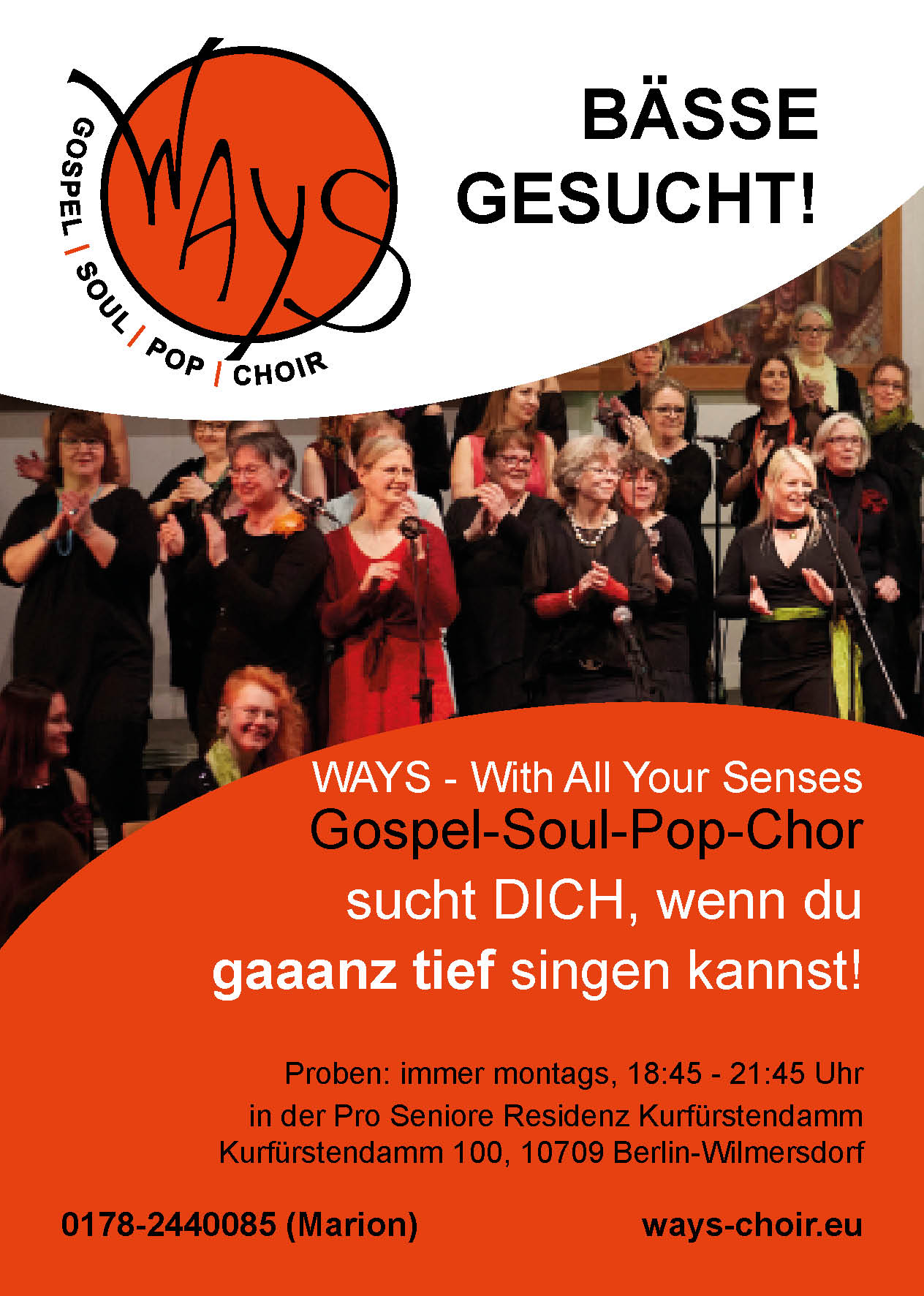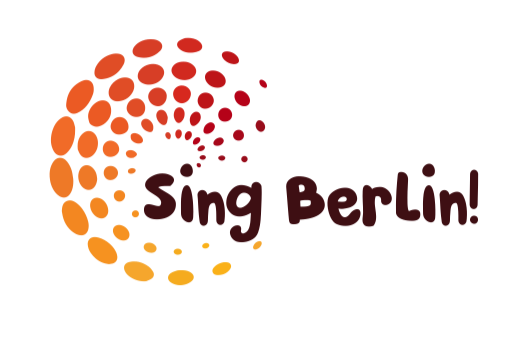 WAYS @ Sing Berlin! 2018
Winner of the Category "Modern – Jazz/Pop/Gospel"
Celebration - February 2019
opening song of the WAYS celebration concert 2019
Bridge Over Troubled Water - 2018
WAYS at the "Sing Berlin"-contest in July 2018
Chain of Fools - July 2017
one title of the WAYS summer concert 2017
Currently no Concerts are planned
Contact
Rehersal
every Monday from 18:45 to 21:45
Address
WAYS - With All Your Senses
Pro Seniore Residenz Kurfürstendamm
Kurfürstendamm 100
10709 Berlin (Wilmersdorf)
Contact
phone: +49 178-2440085 (Marion)
email: info@ways-choir.eu