WAYS - With All Your Senses
Some call it Gospel, others call it Soul, Rhythm&Blues or Popmusic.
We want to move along several ways in music.
We want to sing "Songs with a Meaning"!
With all your senses..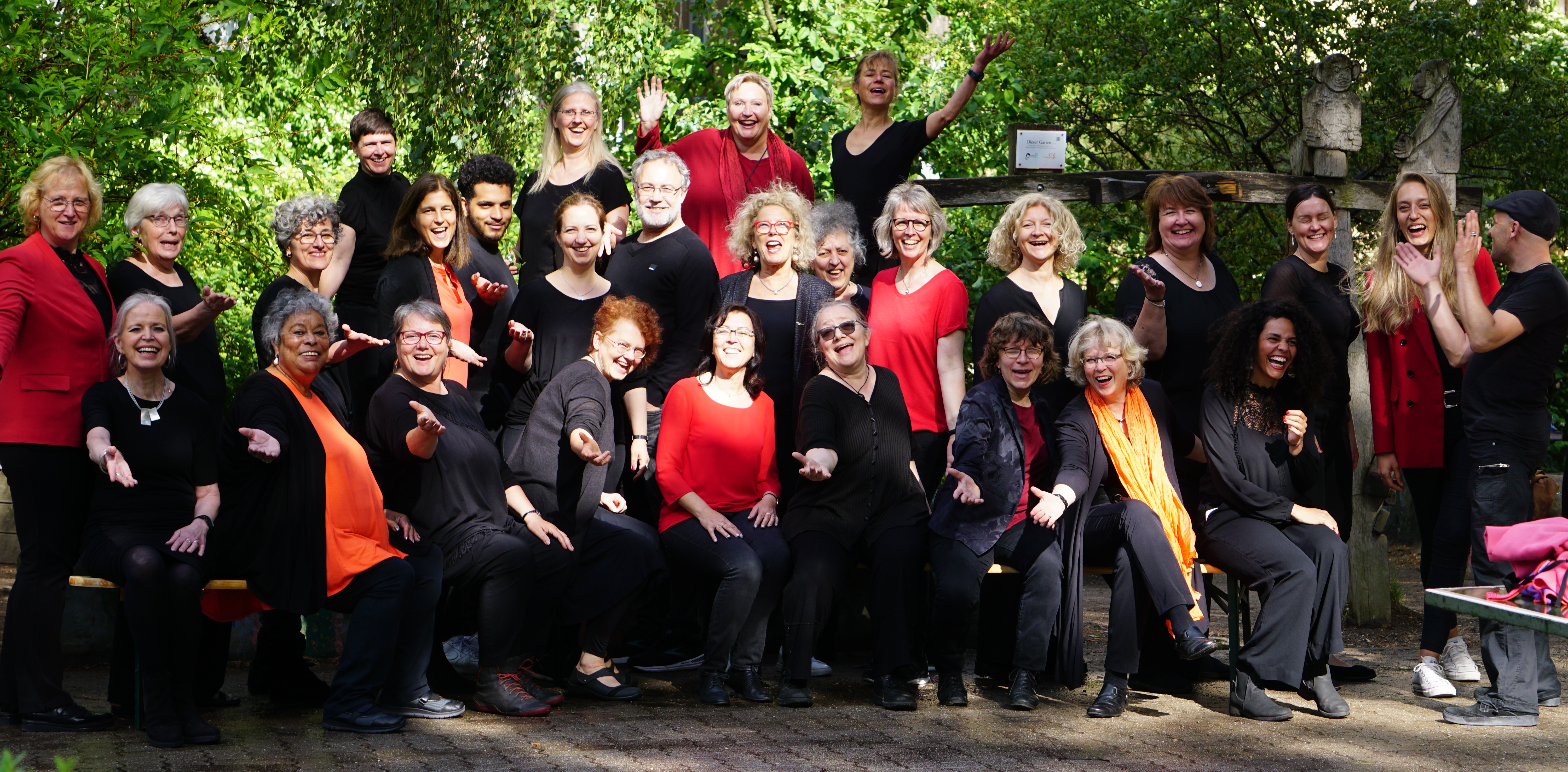 News
June 2022
Our performance at the festival "Berliner Chortreff 2022" in FEZ Wuhlheide was live documented by the RBB evening news show. You can find their summary in the ARD media library for a week.
The short video, which we made in advance of the spectacle as official announcement, was rated by jury and audience as the best video of all participating choirs. You can find the YouTube video here.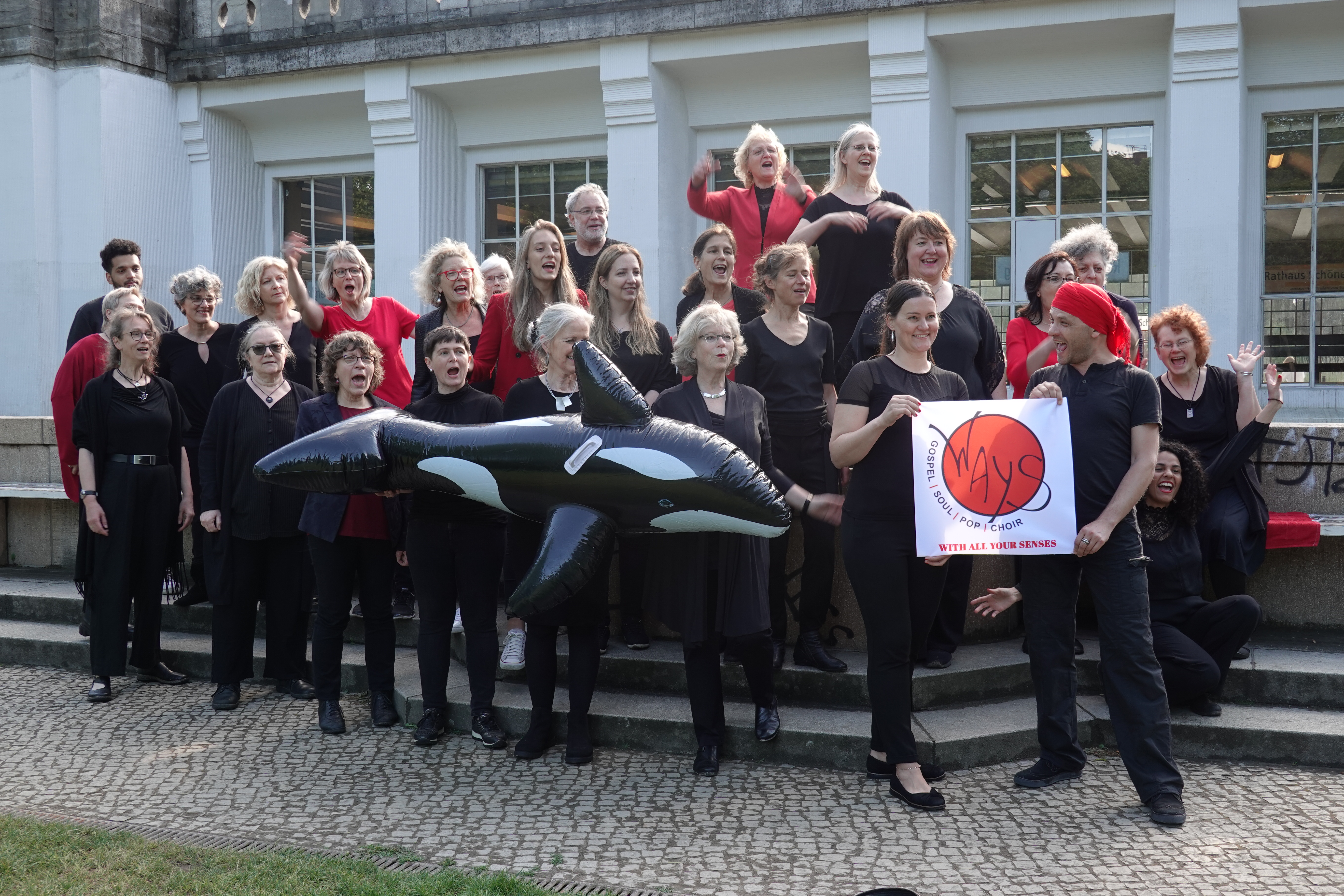 April 2022
After a 2-year Corona break, we are finally back on stage with a full program:
Together Again
(click here for more information)
We look forward to seeing our audience again. With new songs and new singers, but as groovy as usual and in a good mood, we will make the St. Lukaskirche at Anhalter Bahnhof ring out.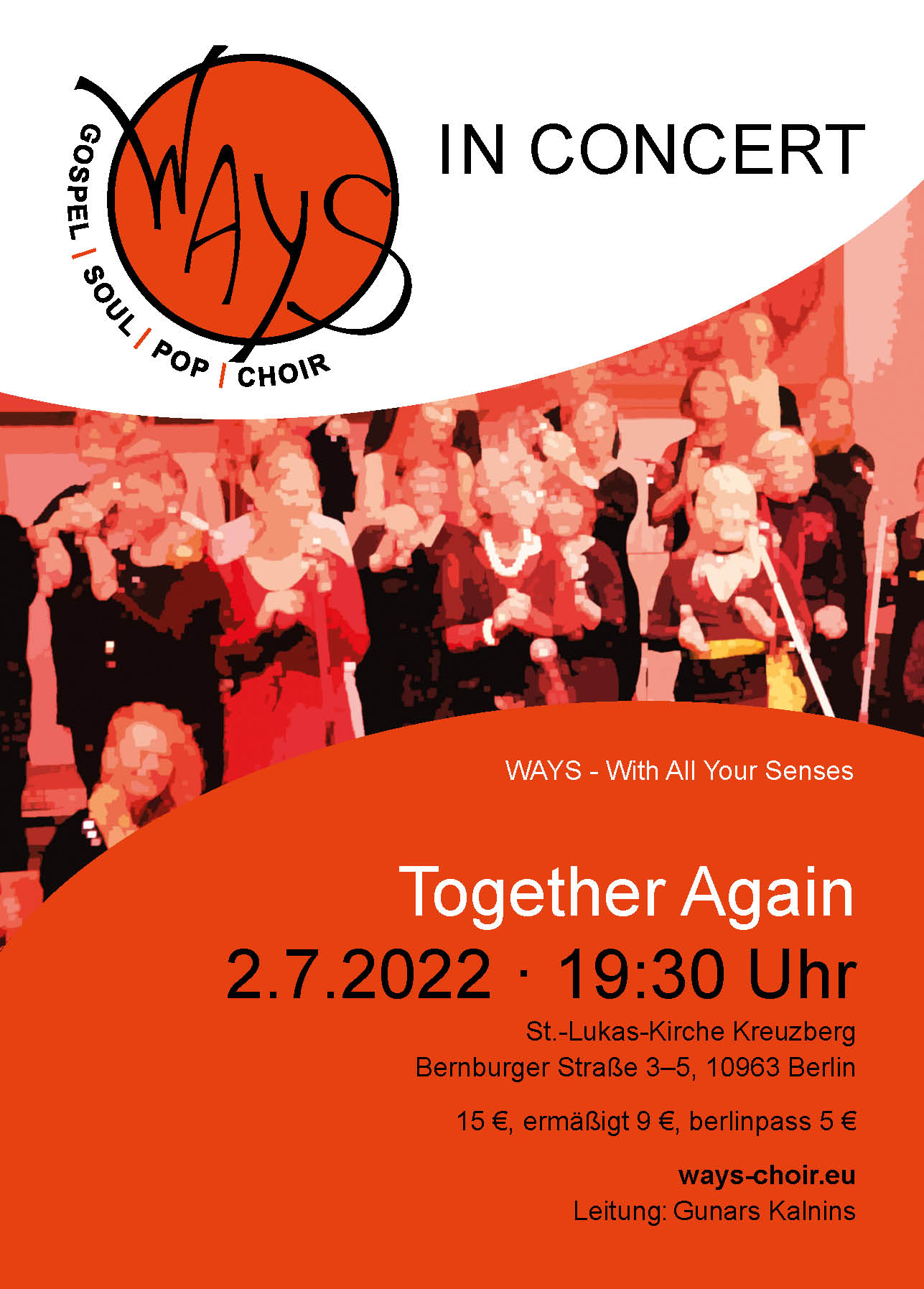 March 2022
The time for open rehearsals continues: the first Monday of each month everyone interested can participate in a rehearsal. At every other rehearsal there also is the opportunity to listen silently, but unfortunately not to sing along.
So next rehearsals for participation are Monday, 4th April 2022 and Monday, 2nd May 2022, from 6:45 p.m. to 10:00 p.m.
Anyone who would like to attend a rehearsal is cordially invited. Please make sure to contact us in advance (telephone +49 1575 0984161 or email info@ways-choir.eu).
February 2022
If you are interested in singing with us we invite you to join our rehearsal on Monday, February 21st, February 28th, or March 7th 18:45-22:00. Please contact us in advance (phone +49 1575 0984161 or mail info@ways-choir.eu) so that we can plan accordingly.
Please note that we follow the mandatory COVID regulations for choirs:
mask required (medical or preferably FFP2)
COVID-19 QR-code required
negative test of the same day required
Attention: the event will be indoors.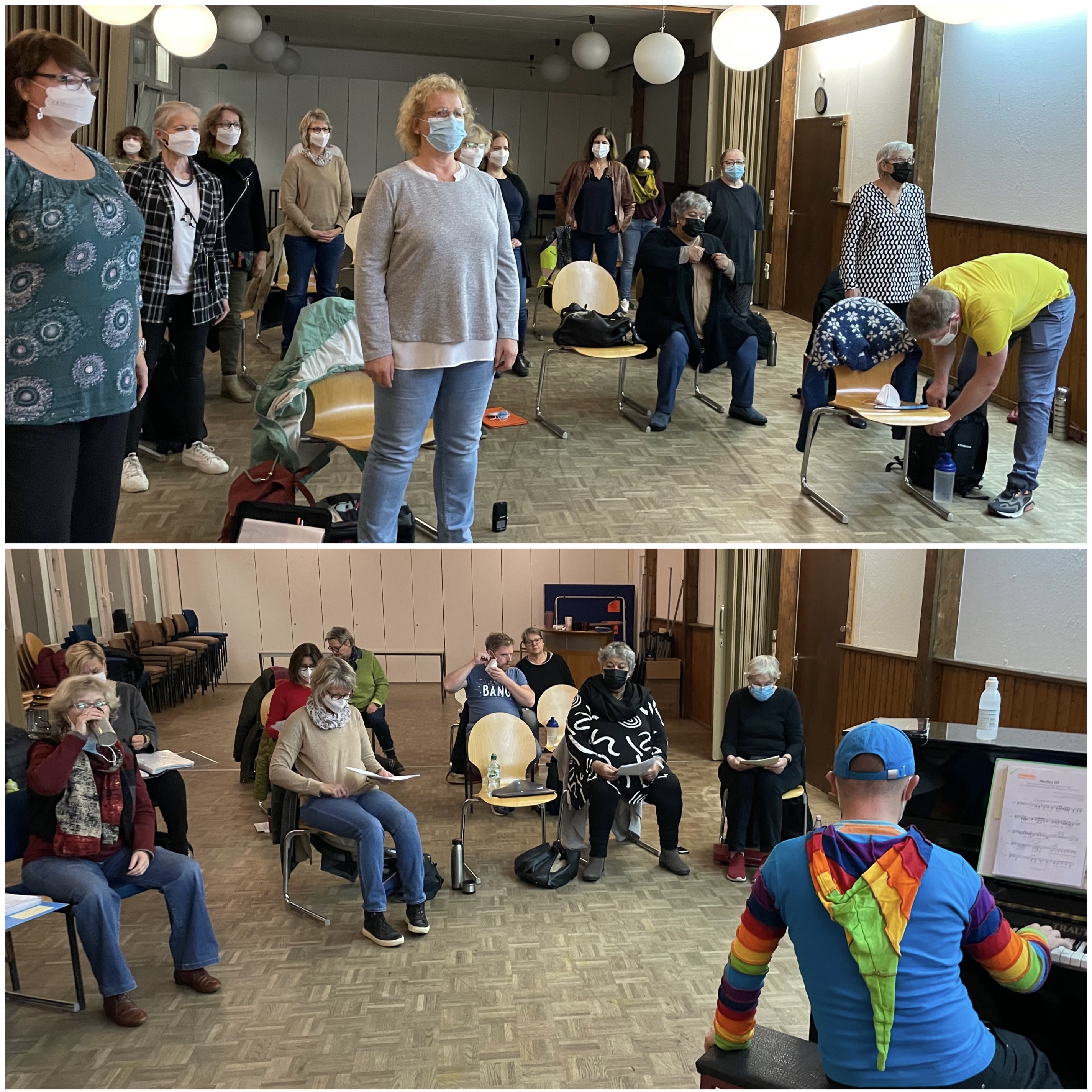 November 2021
A few days ago we had a WAYS choir weekend in Bad Saarow. With our individual hygiene concept, of course. The last time we were at Scharmützelsee together was in 2019 - and Corona was still a beer … It's still so beautiful here. The youth hostel is our home base. Friday 6pm to Sunday 1pm actually resulted in almost 15 hours of singing together. Thanks to vocal training and liters of ginger tea, nobody lost their voice. After rehearsal we still had to talk and dance and scrap-secret-santa and eat up all the goodies we had brought with us. And all this in beautiful golden October, a dream!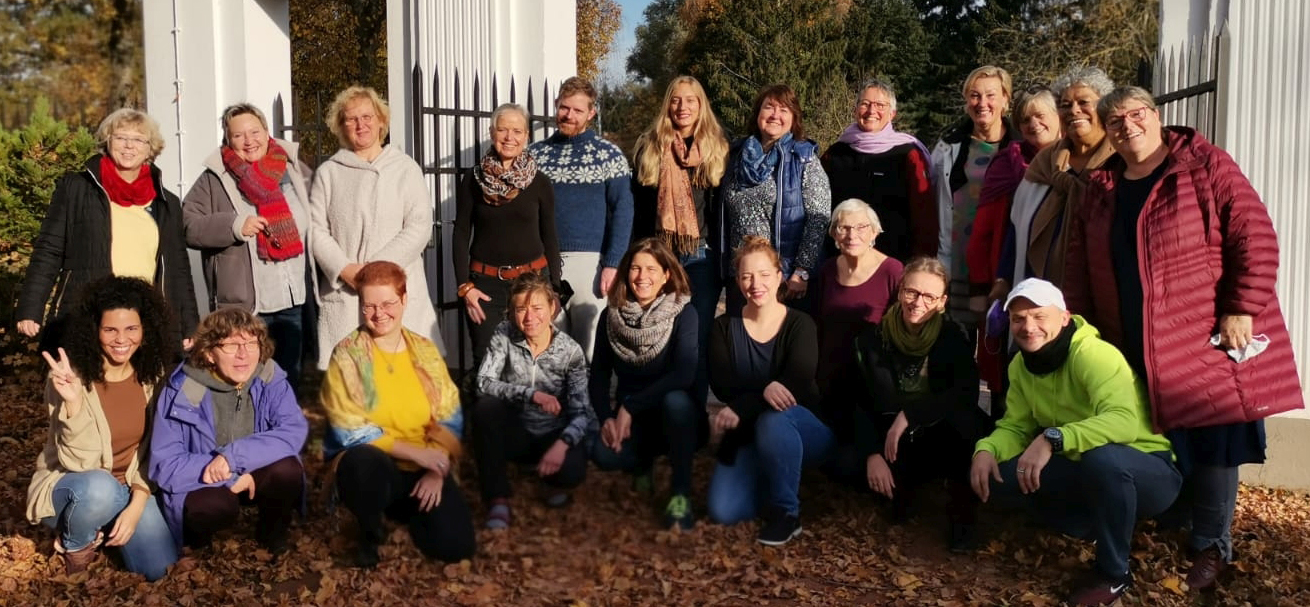 October 2021
WAYS rehearse analog again
Good news: We found a new, huge rehearsal room with a close connection to S-Bahn in Lichterfelde-Süd. AND: We're singing again in 3D, color, with real sound, and with Gunars. Yeah! It's so good to meet as a choir again. Finally! You can look forward to concerts in 2022.
For safety reasons we have agreed on 2G and masks. Therefore, unfortunately not all WAYSies can take part again. (We miss you!) But it's a start. And it will get better!
May 2021
Yay! The incidences are falling, more and more people of WAYS are vaccinated, too, and the regulations for choir singing in Berlin are loosening. Will the Zoom times end soon? Even when "tea time digital" is fun and much better than not seeing each other at all …
However, we long to sing "for real" again and put together the new songs we learned during the Zoom voice group rehearsals.
Some of us took up their Sunday rehearsals in the park, as before (well distanced!).
We hope we can sing for you again soon!
If you would like to join us: simply call us on +49 178 2440085 or use the contact form.
Your WAYSies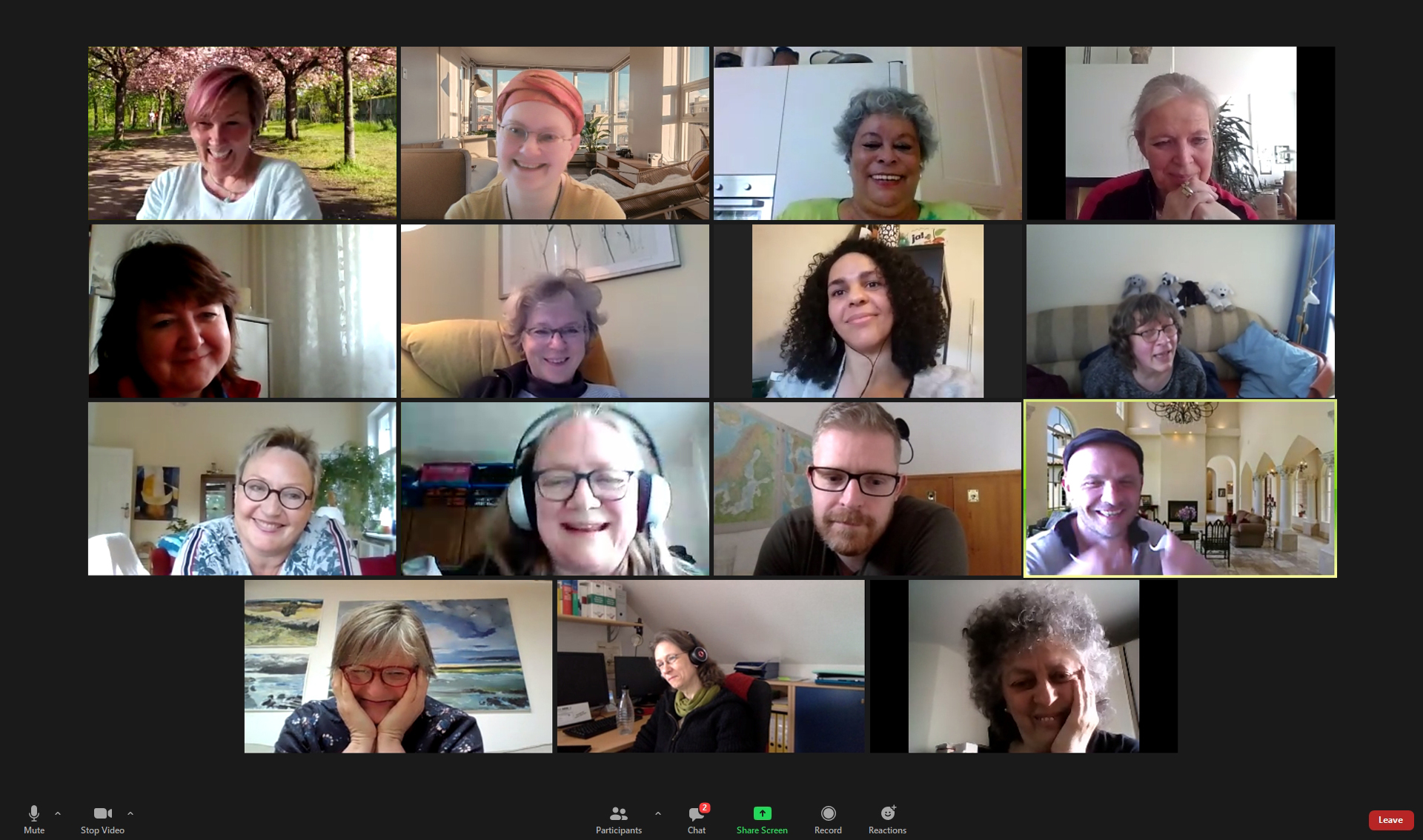 December 2020
Yes, of course WAYS continues to sing all through the winter lockdown. And we don't even wear masks – Zoom has made it possible for us to meet with Gunars each Monday and practice new songs diligently in three different voice groups. True, everyone is singing by themselves at home and we can't hear each other, but we can see and hear Gunars at his piano, ask any questions we might have, and gaze into the dearly missed faces of fellow WAYSies.
Though, we are all very eager to hear how the new songs will sound when the patchwork someday comes together in "real-life" rehearsals. Surely, there will still be a lot to work on, you all know how we love all the details. We can't wait to introduce you to our new repertoire delivered in rich WAYS sound, somewhere "on the other side". We so miss our concerts and you!
Anticipation begins now!
If you would like to join us: simply call us on +49 178 2440085 or use the contact form.
Your WAYSies
October 2020
Even in Corona times WAYS keeps going: from time to time we rehearse with our choir director in different locations outside (full 3 hours) or inside (2 times 30 minutes with a ventilation break). And on Sundays we sing in a small group in the park. When it rains we meet under the trees or in the parking deck. Most importantly, we all have fun and the sound is great!
If you feel like joining us: simply call us at +49 178 2440085 or use the contact form.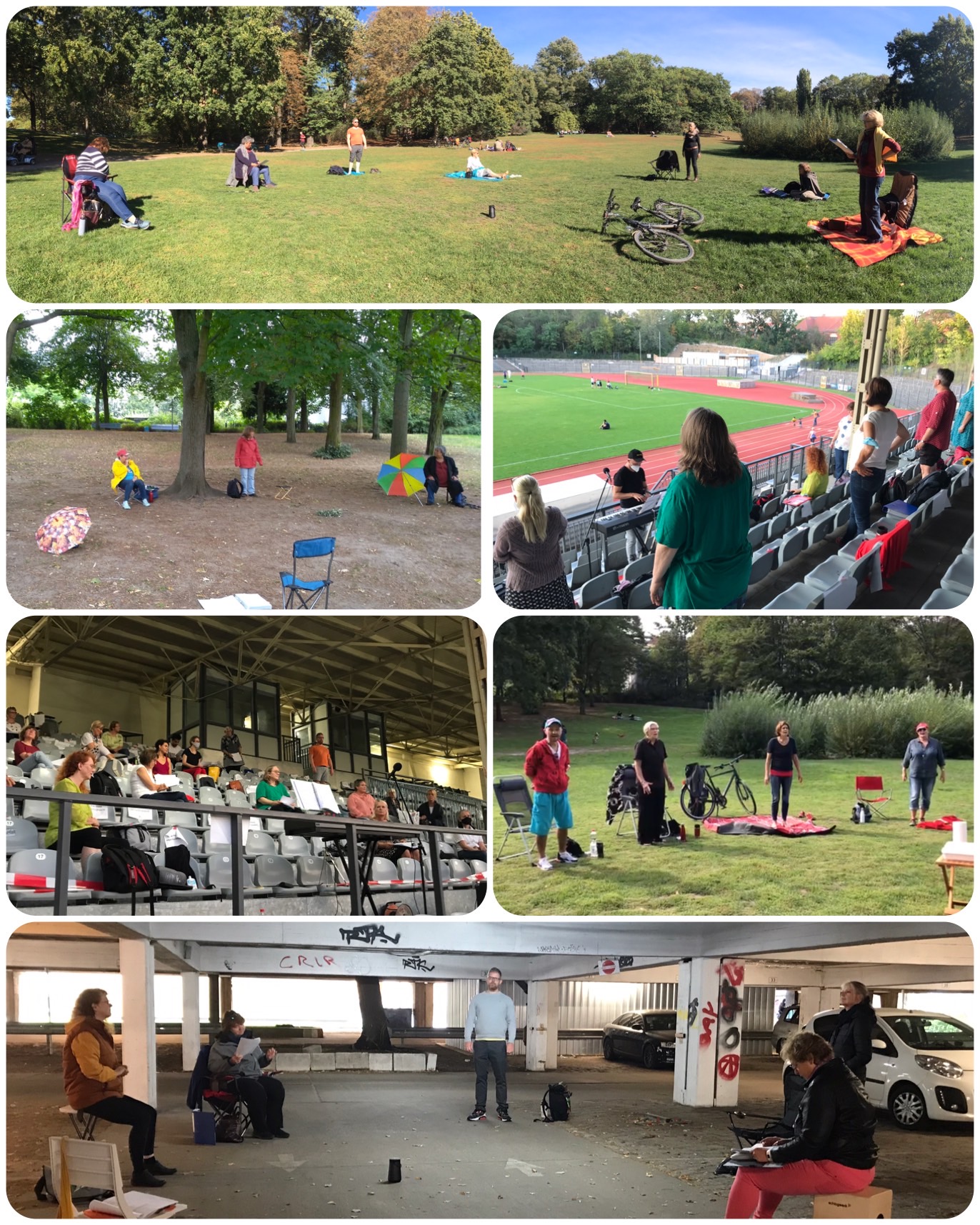 May 2020
Dear friends,
because of the COVID-19 crisis, WAYS is also pausing until further notice with the rehearsals in the library of "our" retirement home on Kurfürstendamm. The health of our hosts of course is more important!
We will let you know when and where we will meet again, as soon as we know ourselves.
In the meantime, we continue rehearsing using video meetings so that we can be there for you again soon - with new songs.
Until then: you all stay healthy, keep some distance, watch each other and don't forget to sing.
With All Your Senses!
Your WAYSies!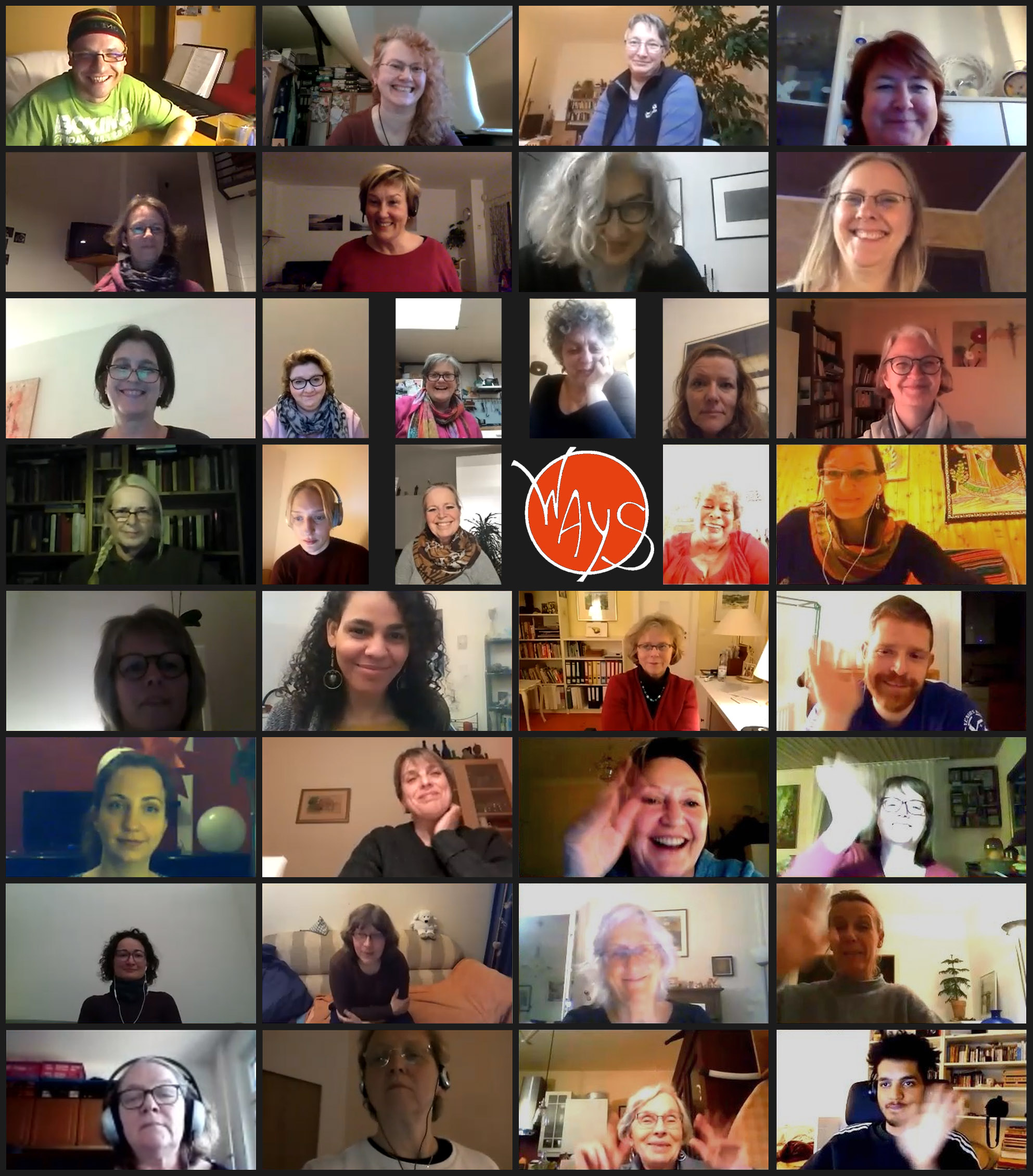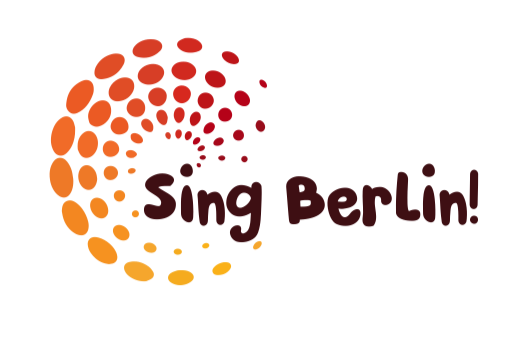 WAYS @ Sing Berlin! 2018
Winner of the Category "Modern – Jazz/Pop/Gospel"
This video is our announcement of the festival "Berliner Chortreff 2022". Jury and audience voted it the best video of all participating choirs.
Celebration - February 2019
opening song of the WAYS celebration concert 2019
Bridge Over Troubled Water - 2018
WAYS at the "Sing Berlin"-contest in July 2018
Currently no Concerts are planned
Contact
Rehersal
every Monday from 19:00 to 22:00
Address
WAYS - With All Your Senses
Bus-Stop e.V.
Celsiusstr. 71-73
12207 Berlin (Lichterfelde)
Contact
phone:
+49 176-31331855 (Renata)
+49 157-50984161 (Martina)

email: info@ways-choir.eu